Get a clear view into
your people
your org chart
your distribution lists
your culture
Take the Product Tour
OrgWiki is like an internal LinkedIn for our employees.

Company Directory
Fastest way to locate and learn about co-workers.
Always up to date

Profile showing skills, responsibilities and professional or social groups

News feed to keep employees updated on company news, and coworker posts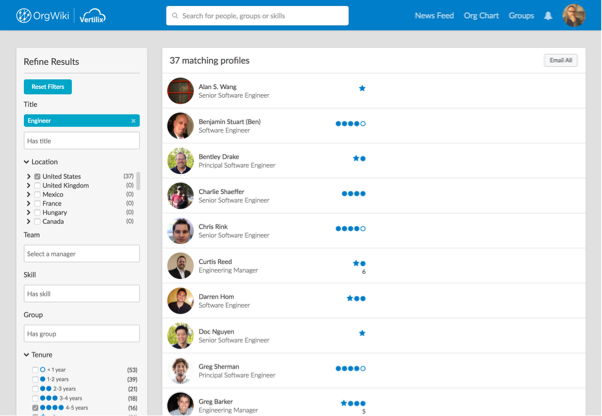 Org Chart
Up to date view of the organizational structure.
Navigate up and down through the org chart

Supports direct & dotted line reporting

See new hires and title/reporting changes in a single view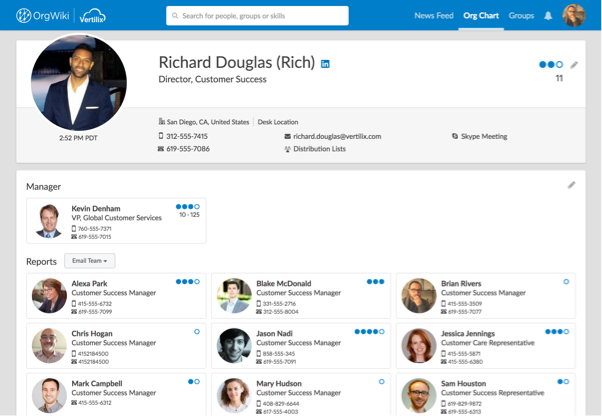 Distribution Lists
Save thousands with our automated and self-service tools.
Reduce IT costs with delegated list management

Automated distribution lists based on location and organizational structure

Manage nested lists easily and safely

Find contractors and external users on sensitive lists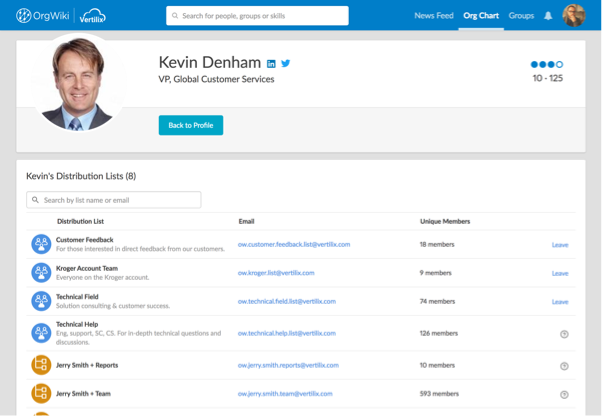 Rich Profiles
More than just a picture and phone number.
Find out how best to communicate with a colleague

Learn about peers - About Us, Skills and social groups

Serves as a Linkedin for your enterprise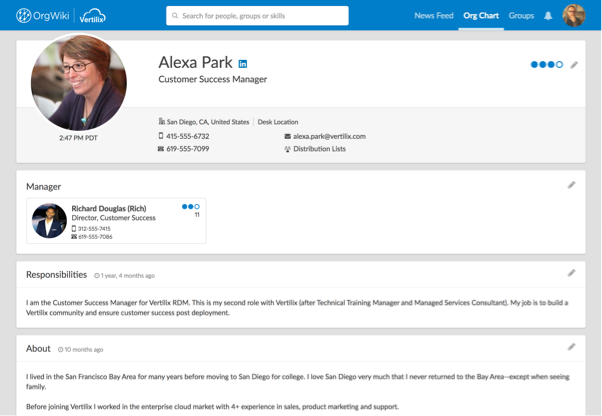 Turnkey Deployment
Provision employee data into OrgWiki with Okta (or upload with a spreadsheet), announce OrgWiki to the company and let the OrgWiki adoption engine do the rest.

Take a Look
See what OrgWiki could look like for your company
Product Tour
Pricing
OrgWiki costs $3 per employee, per month. Zero implementation cost.
Let us walk you through a demo
Interested in the product? We're more than happy to walk you through a demo to see how it can benefit you.
About OrgWiki
We help IT organizations untangle internal communication channels and give their users a clear view into who does what in their companies. OrgWiki is an internally funded startup at Veeva Systems, an enterprise cloud company trusted by over 500 life sciences customers with highly regulated CRM, R&D, and Quality business processes.
We first built OrgWiki internally to help Veeva stay connected as we grew from a venture-backed startup with 400 employees to over 2,000 today in over 30 countries and a successful IPO.
Subject: A cool new app called OrgWiki
Team,
We just implemented an app called OrgWiki. It's the best employee directory for a distributed workforce like ours. This means an accurate and visible org chart to help navigate our ever-expanding company, rapid access to contact information and a social timeline to capture the thoughts, photos and experiences of our people that define our culture.
The application is from Veeva Systems, a leader in cloud-based enterprise apps. I think you will like it. It will help our team learn more about each other and will greatly help the on boarding of new people. You can use OrgWiki from your desktop or on your smartphone browser.
OrgWiki only works if each of us puts our information in it. As the name implies, its a wiki-based app, so you need to be responsible for keeping it up to date and accurate. I need you to do a couple of things for me by the end of this week:
Upload a photo of yourself on your personal OrgWiki Page, add a nickname if you prefer
Update your contact information and review the org chart, confirm its accuracy
Fill out two important sections: "Responsibilities" and "About"
And if you like, post a photo of your passions, your family, recent celebrations or team events
To encourage the speedy transition OrgWiki, we are pulling down the old company directory.
See you on OrgWiki soon,
Signature
CEO